Best Sunrooms & Patio Enclosures in Erie, PA
---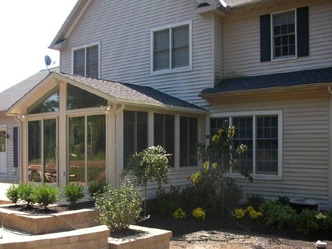 Great Lakes Construction – of Erie, PA - is a member of the National Sunroom Association, and we are confident that we will provide you with the best sunrooms and patio enclosures in the Erie area. Let us build the perfect getaway for you!
Oasis® Sunrooms, installed by Great Lakes Construction, are available with your choice of vinyl or aluminum. The vinyl sunrooms provide many added benefits, as they are the more popular choice amongst our satisfied customers.
The choice and model of the sunroom would depend on your use, size, engineering conditions, and area you are located. All sunrooms from Great Lakes Construction are made of heavy-duty extruded aluminum stiffeners completely encapsulated in solid virgin vinyl. All sunroom windows are fusion welded sash and mainframe.
---
Envision Yourself in a Great Lakes Construction Sunroom or Enclosed Patio
Both sashes operate and full screens are included. The sunroom design is complete with no visible screws for a finished look. Vinyl sunrooms will not sweat when heated. Let Erie's best sunroom installers at Great Lakes Construction help choose the right sunroom for you! Check out Joyce Sunrooms today to learn more about Oasis® Sunrooms.
Oasis utilizes energy saving insulated glass for your sunroom to achieve unparalleled efficiency, ideal balances of solar control and high visibility and 95% blockage of damaging UV rays. 
Sunspace Sunrooms ensure that your Sunroom, Patio Cover, WeatherMaster Windows and Enclosures design and installation will be a worry free experience from start to finish. WeatherMaster Window, Door and Enclosure Systems combine the open feeling of a screen room and the comfort and convenience of an enclosed porch.
Call the Great Lakes Construction professionals at (814) 838-0600 to plan your patio enclosure or sunroom!
SHOWROOM HOURS
---
Monday-Friday
8:30am - 5:00pm
---
OR BY APPOINTMENT