Highest Quality Roofing & Siding in Erie, PA
---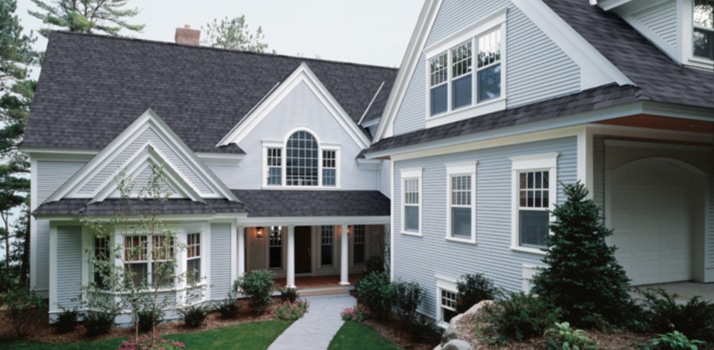 Roofing in Erie, PA
When you choose Great Lakes Construction to replace your roof, we approach it as a system of function and design. Our intention is to provide a roof that will give you years of trouble free maintenance and the appearance of an updated home. At Great Lakes Construction we strive to blend the color of your new roof to the color of your home, for a picture perfect result.
---
Siding in Erie, PA
Certainteed Monogram, rated #1 by consumer report, defines how beautiful siding can be. Only Certainteed Monogram offers a distinctive rich cedar texture that looks and feels like real wood. All colors feature a warm, low-gloss finish that looks just like freshly painted wood. Add more appeal with Easy-Care, color coordinated trim options for windows, doors, corners, soffit and other accent areas. With Certainteed Monogram, there is only one choice for siding.
---
Soffit & Fascia in Erie, PA
Great Lakes Construction will install beautiful soffit and fascia for your home. A soffit is a covering between the outer edges of a roof and the adjacent wall of the house. The soffit prevents moisture damage to a roof as well as the house it sits upon. Fascia board is a type of roof trim used on houses, which is mounted on the exposed ends of rafters or the top of exterior walls to create a layer between the edge of the roof and the outside. Soffit and Fascia work together to protect the roof and the interior of the house from weather damage.
Professional installers have long preferred the rugged, dependable performance that only a GAF roof can offer, and have made our Timberline® Shingles with Advanced Protection® the #1 selling shingle brand in North America! Rated #1 in shingle quality by U.S. contractors and home builders.
Get the peace of mind that comes with a contractor who has qualified for Preferred status with Owens Corning. We have every type of shingle you can think of to ensure that you find the right shingle for your home. When you choose your shingles from Corning Owen, you're choosing to go a step above the rest with our stylish high-performance shingles.
With Prestige siding from Vytec, your service includes finding the perfect color and style for your home, while being confident that it is going to last.
CertainTeed Cedar Impressions offer a range of staggered or straight edge rough-split shakes and perfection shingles for your ideal home design.
CertainTeed's ColorView interactive tool helps you visualize product style and color options, making choosing your roofing fun and easy! Choose from a selection of    CertainTeed's luxury, designer and traditional shingles for the perfect complement to your home.
James Hardie is the World Leader in Fiber Cement Siding and Backerboard. They create innovative siding products that increase the beauty, value, safety and durablity of your home. Trusted by builders, contractors and architects, James Hardie® siding and trim products have a reputation for long-lasting performance - even in challenging coastal conditions.
The curb appeal, durability, energy efficiency of Royal's exterior siding and exterior trim will change what's possible for you and your home.
The Foundry Specialty Siding is authentically crafted premium PVC house siding. Foundry vinyl stone siding and vinyl cedar shakes, shingles and shapes allow beautiful, low-maintenance living. Compared to wood cedar siding and metal or aluminium siding, premium vinyl siding from The Foundry delivers maintenance-free home exteriors with unparalleled vibrancy.
Your home is an investment that deserves the highest quality products; you can trust Polaris Exterior Products to increase the value of your home and reduce energy costs. Polaris Siding and Accent products are the perfect combination of beauty and strength. Available in a wide variety of colors and styles; Polaris Exterior Products allow you to customize your home with an upscale appearance and exceptional durability.
Whatever your perfect style, Ply Gem makes it possible. With Mastic vinyl siding, you get architectural design, personalized support and professional grade performance.
Call the Great Lakes Construction professionals at (814) 838-0600 to plan your next roofing or siding project!
SHOWROOM HOURS
---
Monday-Friday
8:30am - 5:00pm
---
OR BY APPOINTMENT